SEO or Search Engine Optimization needs no introduction in today's digital world. Almost every person is well aware of its importance to stay ahead of the competition. You might not just hear it so many times, but engaged in its practice too. But are you getting the response you have expectations of? Do you know the performance of your website before you were engaged in such practice or after being in the same? If no, you must be just shooting in the dark, which give you no results for sure. Webclick Digital Pvt. Ltd., being a leading SEO Company in Delhi, we recommend SEO audits to check the performance. Don't worry, you don't need to climb a mountain for the same, just sit back, relax, read and check. Make sure your website passes all these basic tests. So, let's get started on how to check whether your website's SEO is up-to-the-mark or not.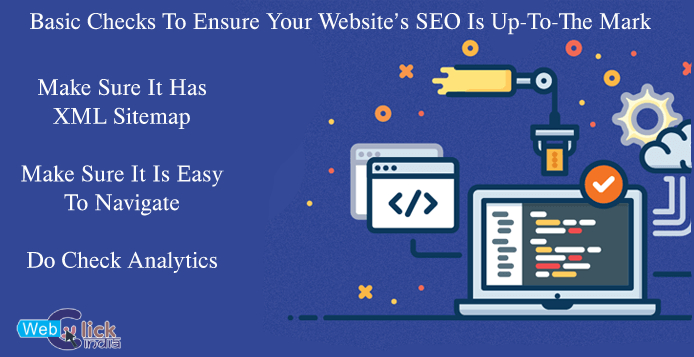 Make Sure It Has XML Sitemap: Having a sitemap is as important for an SEO-friendly website, as words or signs or expressions to communicate. Like you cannot connect or explain what's in your mind to others without communication, similarly, to explain Google or search robots about your website, you need to provide them XML sitemap. A sitemap is an XML file that contains all the URLs of your website and designed mainly for search engine crawlers to navigate every page, to display it in search results.
How To Check?
Head to Google Search Console and locate it under the section "SITEMAP". It'll give you brief about the status, whether it is submitted or not, submission status and more.
Make Sure It Is Easy To Navigate: Google, the world's most popular search engine, promotes user-friendly websites. And by user-friendly, it means that your website supposed to navigate every visitor to the exact page they are searching for. The structure, URL, category and landing page of your website made some sense to the users and Google as well.
How To Check?
Simply think from visitors point, if you are a visitor and new to a particular web page, whether you can reach your destination through it easily or not. If yes, it means your website is user-friendly and if not, you need to take some action.
Do Check Analytics: Tracking and maintaining a record of your website's traffic and overall performance is possible through Google Analytics. Also, it is important for making fruitful SEO decisions in the future. Not keeping a tab on the same is like, you are driving, without knowing of the destination where you need to go, which is just a waste of time and nothing else.
How To Check?
Login to your website's Google Analytics account, visit a particular page and check the data.
Simply hire a professional team to get the SEO work done in the right manner possible. Being a Website Designing Company in India, we use SEO-friendly approach in everything we do, and the major reason we are on top of Google. To get the same ranking, reach us straight away, to get our services, our experts would be happy to serve you.