SEO or Search Engine Optimization is the mix of on-page as well as off-page SEO, but a number of people because of the lack of knowledge consider them the one, which it is not. Both the categories are different from one another and have their own uniqueness. It improves the ranking of your website, so, that your website ranks higher with a number of keywords. Every professional SEO Company In Delhi will serve you the best services, so, you can mount the heights and grab the position your business deserves to be on. But before you started, take a look at the points that make it easier for you to differentiate between the both.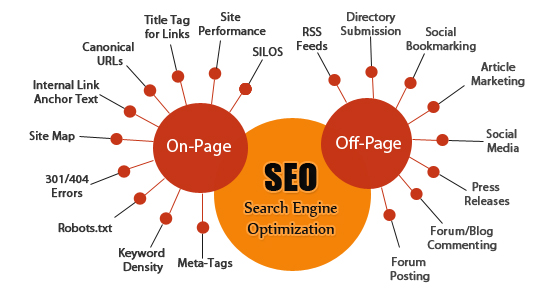 On-Page SEO

: All the work you did on the website that is writing the unique Content, changing the Title, Meta Tag, Description, Adding Images, etc. are the part of On-site or On-page SEO. These certain techniques help the search engines to crawl your website for better ranking. It is important to have proper knowledge about the techniques so you can take the right step for better ranking of your website.


Off-Page SEO:

It majorly focuses on all the factors that are performed off-site such as Article and Blog Submission, Online Directory, Bookmarking, Link Building, etc. All these techniques if performed by the right method will surely give you the great outcomes. The ranking is not only important for improving your website visibility, but also for the expansion of your business in the near future.
What's more, are you waiting for? SEO is the way more important for your business than you ever think. So, in case you don't have the right knowledge of all its techniques, feel free to take expert Internet Marketing Services In Delhi from an experienced company like Webclick Digital Pvt. Ltd.. Since the formation, we have the zest to do something that helps our clients to grow in this competitive world. Let's meet and have some coffee at our office or call us on the given numbers.