Cheers to the 4 years of success and growth of the company which helped many other entrepreneurs sail through the sea of the online world with ease and persistence. Webclick™ Digital Pvt. Ltd. celebrated the fourth anniversary of its existence and the birthday of not-so-bossy Boss, Mr. Gunjan Singh on 20th December. You can say that it is our special day and the whole team pitched in with vim and elation to celebrate the same. We have been doing things differently to create magic in the digital world. Whatever your digital need is whether developing a website, designing it or providing SEO Services In Delhi, we do it with class and our clients proved that we are not lying. They even made us feel overwhelmed by showering us with blessings, cakes and flowers on this day that made us feel that it is not special for us only, but for them too.

Adorning The Ambience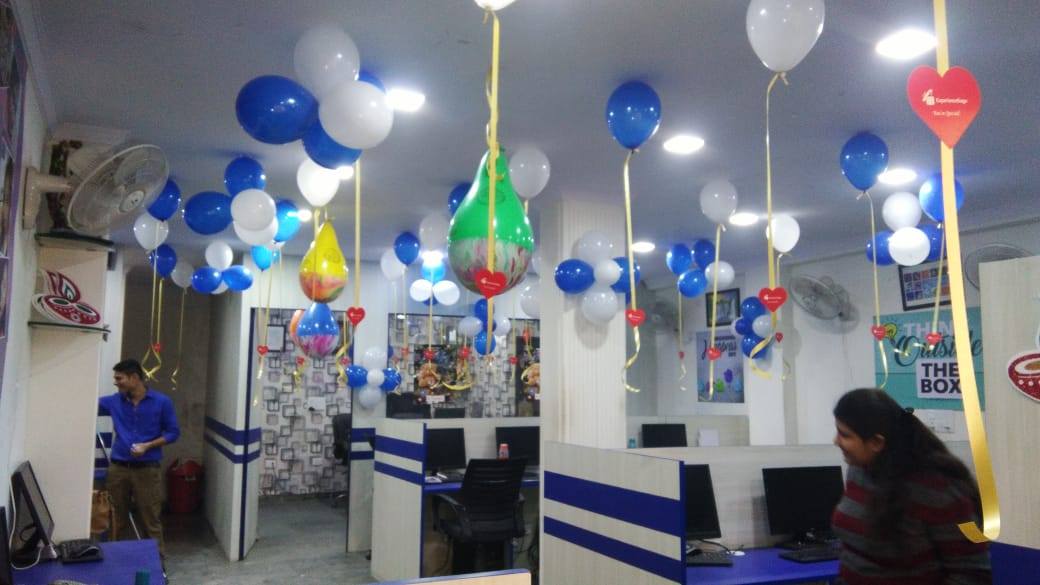 Let's cut the crap and inform you about the zealous celebration that took place. Each and every minute of the day brought great laughter, joy and happiness to us. The day started earlier than usual for the employees of Webclick™ Digital Pvt. Ltd. as they gathered in the office prior to their normal timings for making the arrangements and decorations possible and let us tell you that the office looked like a million dollar and none of its corners was left from getting decked out.

The Stairs Of Love

We are creative heads thus, we couldn't stop ourselves from pouring our creativity in the arrangements and we planned to gather onto the stair of the office entrance with greeting cards to welcome the boss in a pleasant way and ohh that smile reflected how happy he was with this idea. The plan was totally worth it.

Cake Marathon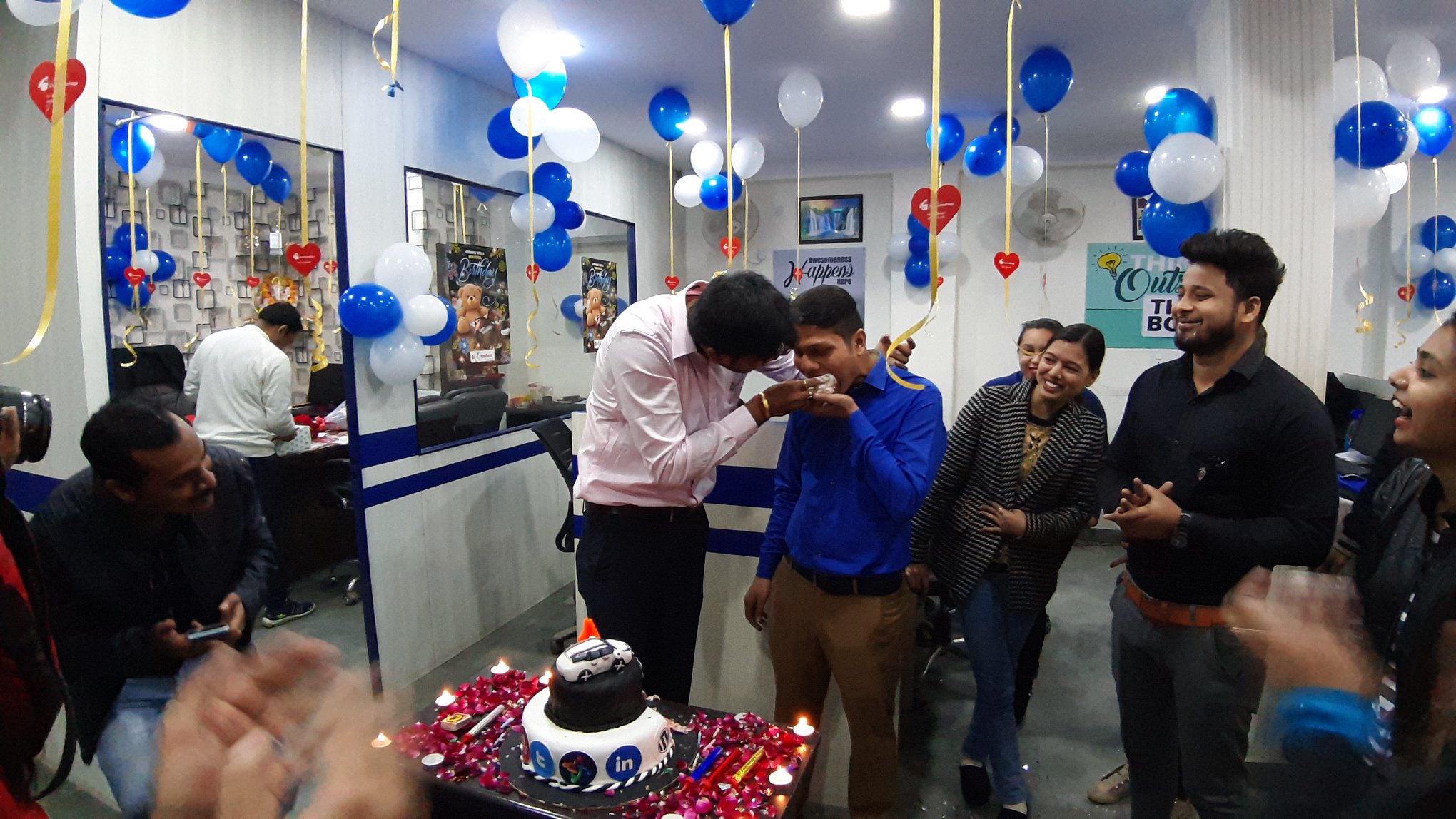 The talk of the day was the cake, the Giant, Designer, 3 Floored Cake. We got it customized to impress our boss but ended up being getting into a tough challenge. Boss Cut the 3 floors at once and made all of us eat the big cake slices in one go. Who could even say no to him? So, everyone ate it and some ended up with faces covered with cakes and others with teary eyes. We are sure that none among us was able to eat a single piece of sugar for the rest of the day. Ain't we too sweet to handle? Yes, we are.

Unwrapping Some Love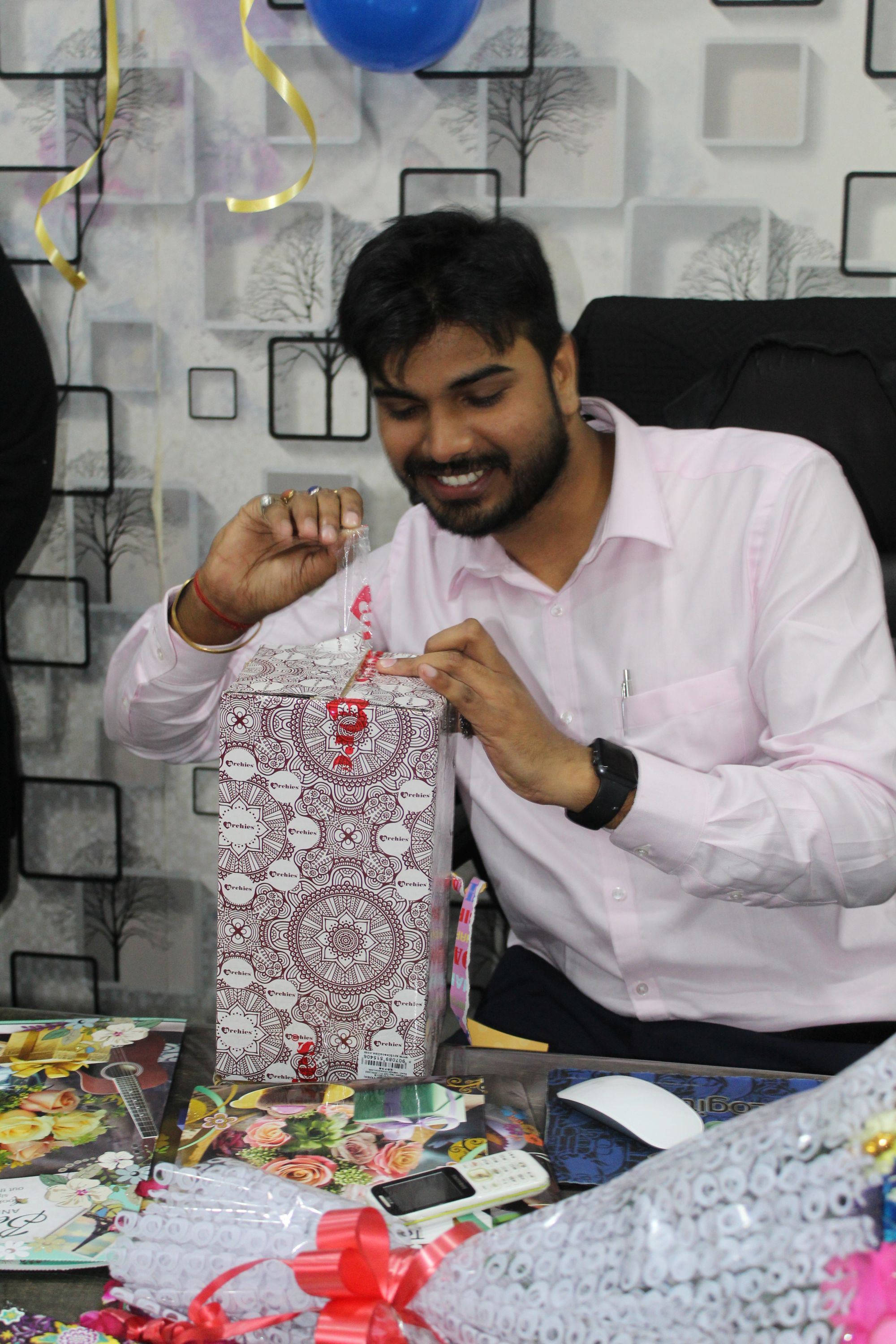 Our boss has the nature of a child, too appreciative and unable to control his real expressions. We gifted him a lot and asked him to open the wrappings in front of the team and his expressions spoke that even the most trivial of things were most commended and that made us feel at the top of the sky.
Food Party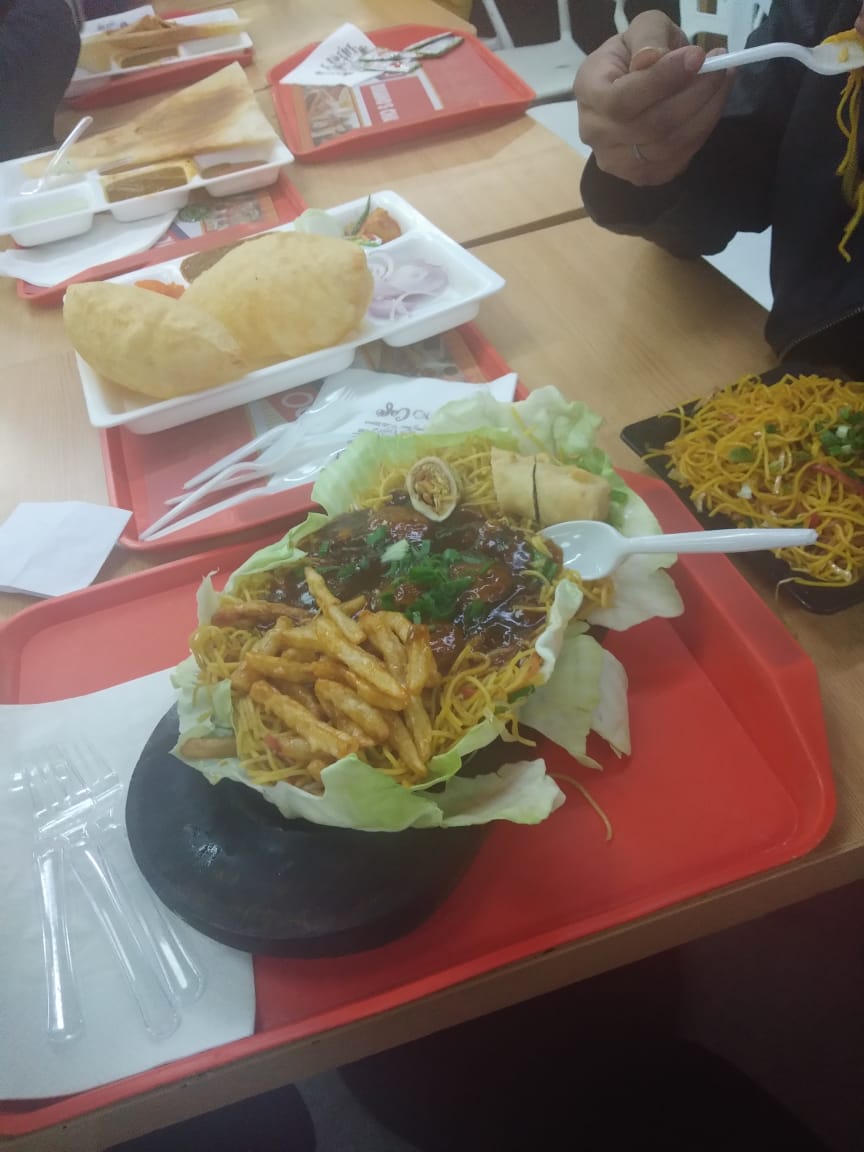 None of the party is complete without food and at Webclick™ Digital Pvt. Ltd., we are equally foodie as we are creative and that explains a lot. So, we were taken to the Food Court at Moments Mall where we were asked to eat as much as we wanted to and none of us missed the opportunity and obviously, we had to neutralise the "Cake Effect". Hence, we were full but asked to come back to the office. Huh, no off from work? Or was there a new surprise awaiting? Read to disclose the suspense.

Breaking The Floor

This was a gift that was asked directly by the birthday boy, Boss – He urged all of us to dance till the beat drop and why we would feel shy in asking for a return gift and hence, we requested him to dance along. Both the conditions were accepted and we forgot while getting busy in dancing that its past the office time and everyone has to go back home.

Because Abhi To Party Shuru Hui Hai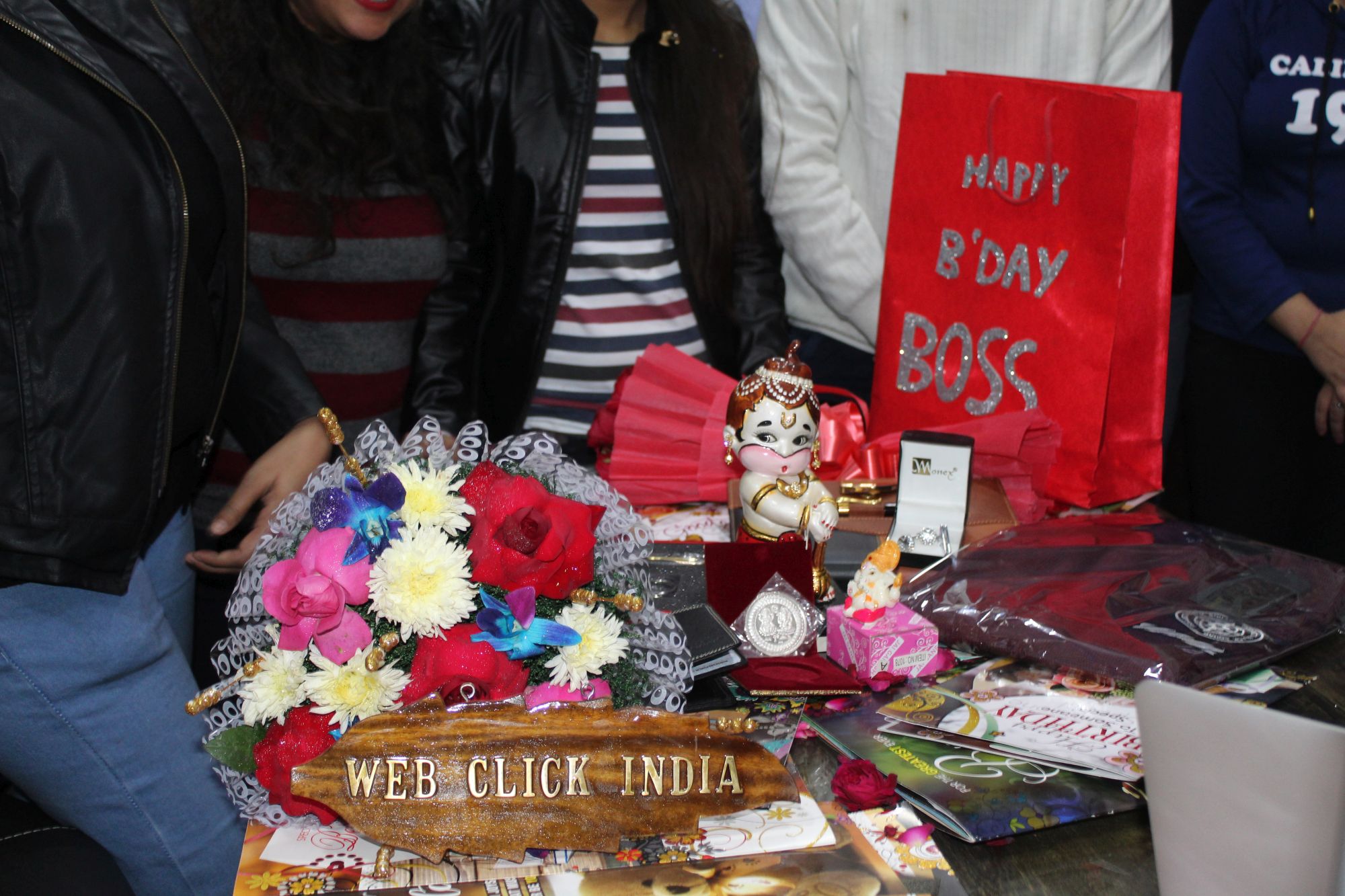 Did you actually think we left the office just after the dance? No, we were over timing at fun. The cakes of the clients and well-wishers were still left uncut. Uhh Ohh, another cake marathon? We had a spooky reaction on our faces. But the boss is generous and didn't force anyone to have it, AGAIN.

The Farewell Speech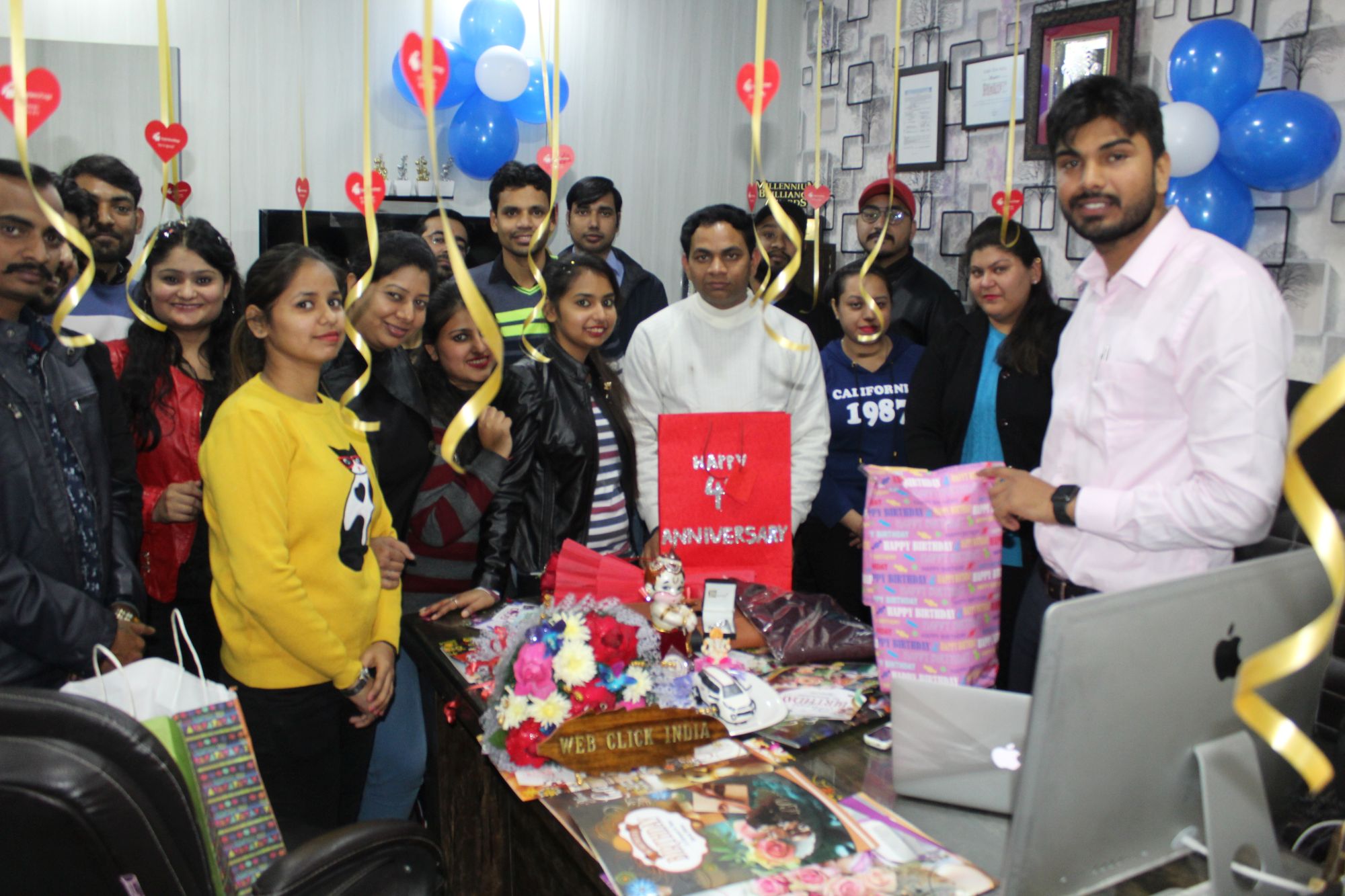 Such a special day was coming to an end and we were not so happy about it. Though, the boss knows well how to motivate his team and thanked all of us for our efforts and contribution. His speech made us get our lost smile back and the other day, everyone was back with a bang on work. Though, some had pain in legs. (Side effects of dancing too much)

Well, if you want to be a part of this amazing Website Designing Company In India as an employee or as a client, you are always welcomed. Call us and let us fix a meeting where you would know how we are the one you need.